Project Search is one of the most successful Supported Employment initiatives at The Arc of the St. Johns.  It is a collaborative joint-venture with The Renaissance Hotel, the St. Johns County School District and Vocational Rehabilitation.
Nick Roerig, Director of Employment for The Arc of the St. Johns and helps oversee Project Search said recently, "This pioneering program allows high school seniors with intellectual disabilities to elect to be a part of this vocational skills training program at the Renaissance Hotel, with the goal of gainful employment for them after graduation."
The on-site program manager is Byron Pennington, a St. Johns County School District employee, a key collaborating agency.  Jake Thornton is a full-time Project Search on-site job coach, and employed by The Arc of the St. Johns.
The program is in its 5th year with 11 students enrolled, all ages 18 to 22, who elected to join this vocational training opportunity rather than a classroom.  As the maximum number of students is 12, the program will soon be seeking a second significant community partner.
Katie is all smiles at work in her uniform at The Renaissance Hotel. Katie's Project Search Job Coach Jake is mighty proud.
Here's a welcome note from Katie's parents: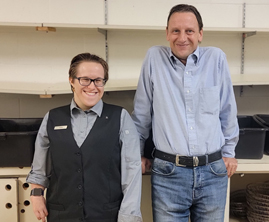 "Thank you very much for the fast response to our daughter's dilemma. Project Search and The Arc have proven to be one of the most positive and motivating life experiences that Katie has had to date. She has learned many valuable life lessons through this endeavor and one of the most important lessons is that there are indeed people she can approach for help and guidance. It inspires confidence and a feeling of self-worth."
Dennis Barry
Christine Gehring